We Stop Pollution Entering Waterways
For over two decades we have been leaders in the design, installation and maintenance of stormwater treatment assets and infrastructure.
The Ocean Protect team includes over fifty professionals with a diverse range of experience and expertise, including engineers, scientists, sales, strata and contract professionals, and asset technicians. With team members in Sydney, Melbourne, Adelaide and Brisbane, we protect the waterways and oceans across Australia.
We have the expertise and products to develop the right water sensitive urban design (WSUD) solutions for a range of objectives including flood mitigation, improved water quality or stormwater harvesting.
Our end-to-end solutions cover every aspect of stormwater management from conceptual design and product supply, through to implementation, construction and ongoing management.
With stormwater regulations and water quality standards becoming increasingly complex and onerous, our best management practice filtration, screening and treatment systems meet the most stringent regulatory requirements, while our comprehensive maintenance services ensure optimal performance and ongoing regulatory compliance.
Across our extensive range, each product we supply and install meets Australia's strictest standards and has been verified for its effectiveness in real world situations, – not just a laboratory.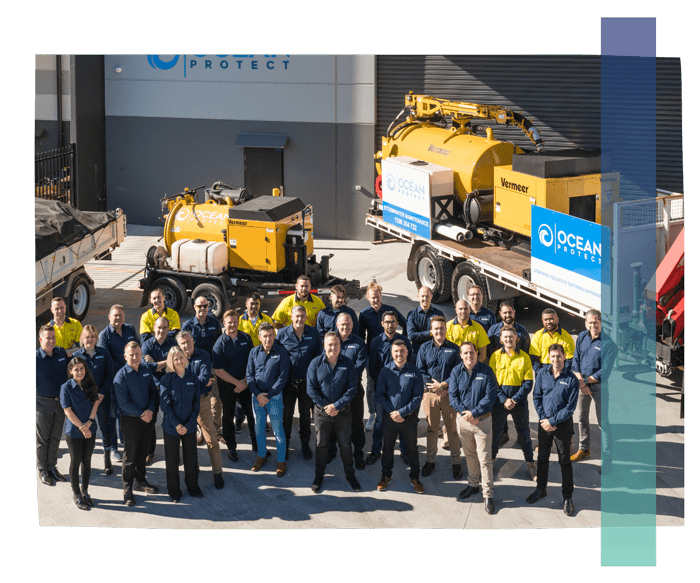 NEXT: Learn more about our team
FOR THE OCEANS & WATERWAYS
In addition to directly stopping pollution entering our waterways via the installation and management of our stormwater treatment assets, Ocean Protect are committed to two key areas to help better protect our oceans and waterways:
Education: improving public understanding of the importance  stormwater management, and how to improve current practices.


Advocacy: liaison with government and key stakeholders for better policies and practices to better protect our oceans and waterways from stormwater pollution.